Generation and Unity Support the Next Generation of Game Developers in Pakistan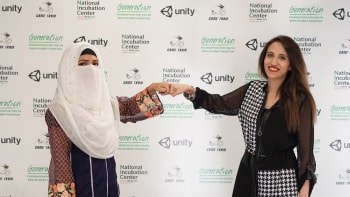 The game development sector is growing at a rapid pace, and Unity powers over half of the world's games across mobile, PC and console. As a result, Generation and Unity came together to develop a new program in Pakistan that provides training and placement for graduates into a career in game development.
Through the Charitable Fund launched by Unity in 2020, in partnership with Tides Foundation, Generation was granted $250K to develop and run the Junior Unity developer program in Pakistan. Early results are strong, and we've exceeded our target of placing at least 80% of participants from the first cohort into jobs within 90 days of graduation (we've placed close to 90%). We've now launched two more cohorts in Pakistan set to graduate this Spring.
Tapping into a New Talent Pool
Together, we launched the three-month Junior Unity Developer program in October 2021, welcoming 95 learners from 39 cities across Pakistan. Learners came from Tier 2 and Tier 3 universities where landing a job within the tech sector is highly competitive. And most of them were from smaller cities where access to employment opportunities in the game development industry are scarce. Along with this we had a sizable portion of learners with no educational background in Computer Science or associated fields, who would've otherwise found it very difficult to get a job without the necessary experience and educational background.
"I was one of the learners that came from a non-coding background," said Ahmad, a program graduate. He added, "this bootcamp was well-designed in that it allowed me to learn Unity on the most basic level. It really gave me a boost."
Robust Online Program with Employer Exposure
The program combined technical elements from the Unity Essentials and Junior Programmer Pathways on Unity Learn — Unity's online education platform, designed to give learners the resources they need to become confident Unity creators, with Generation's curriculum on behavioral and career success skills. Generation provided devices to learners without adequate equipment, and Unity's curriculum design teams worked closely with Generation to provide the best possible virtual learning experience. Learners were able to track their progress, earn experience and unlock assets by completing units, and submit their projects for feedback. Learners also had access to live instructors to help guide them through the curriculum and provide support when working independently.
As part of the program, learners took part in employer site visits to get a taste of the working world. Through these excursions, learners benefited from:
Exposure to professional working environments and in-progress projects
Individual practice projects to give them a sense of the work they'd be doing in their future careers
Feedback from employers to help them improve and prepare for the job market
Throughout the program, participants also had access to personal and professional support. This included wellness mentors, to help with their emotional and behavioral needs, and employability coaches, who provided insight and advice for finding roles in the real-time 3D industry. Mentors supported each learner for the duration of the bootcamp and will remain available for their first six months on the job, which is common for most Generation programs.
"The course improved my Unity skills, but also focused on our personality and built up our professional skills — how to deal with challenges and solutions that we would face in the real-time industry," said Farwar, a program graduate.
Meaningful Employment Outcomes
At the end of the three-month bootcamp, the program achieved:
An over 85% graduation rate between both cohorts
A 90% participant job placement rate within 90 days of graduating
93% of female graduates placed into relevant jobs
An average salary increase of 163% among all placed graduates
"When I came out of the interview room, I had the biggest smile on my face, and I knew in my heart that yes I got the job, I got the job!" said Humaira, a program graduate.