Generation impact update – July 2015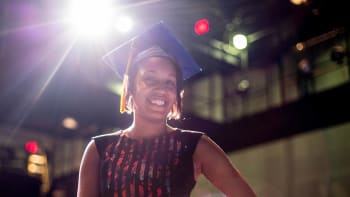 Generation has been moving full-speed ahead in our first year of operations—with much to report about our growing number of programs, promising early results, and progress on planning for the future.
New country and city expansion
We launched Generation in Fall 2014 in the US and Spain. We're pleased to report that we are now live in all five of our countries, spanning eight cities. Our initial programs are focused on employment within four sectors: healthcare, technology, retail/sales, and skilled trades. We plan to reach more than 15 sites by the end of this year, with more to come moving forward.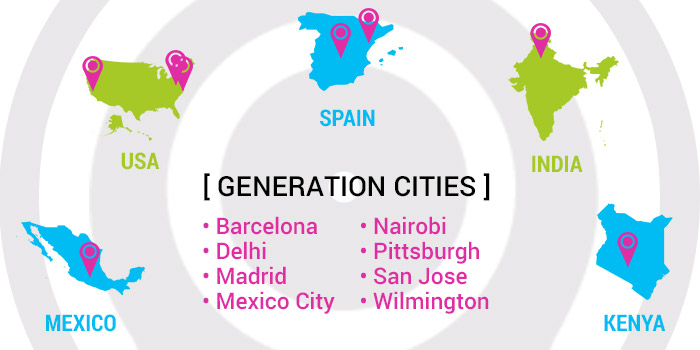 Generation's two most recent launches were in Delhi and Mexico City. Generation India is starting by training young people for roles in healthcare as General Duty Assistants (GDAs), and has established partnerships with IL&FS, four major Delhi-based hospitals and other agencies involved in delivering support services to students. In Mexico City, young people have the opportunity to launch their careers in the retail sector, with active recruiting for the first class going on now. Generation Mexico has partnered with Walmart and ANTAD, the leading retail association within the country, to design and launch the program.
Impact overview
We've had promising early results in employment and graduate outcomes from Generation. Here are highlights from three of our countries:
Kenya
Generation Kenya's first class of students already had 98% placement in financial services sales jobs by graduation date. Our bank employment partners typically only accept university degrees and even then only ten percent of candidates whom they interview. However, they accepted 80% of our Generation Kenya students, all of whom have only secondary school degrees. Generation Kenya students proved themselves through their ability to demonstrate specific skills needed for the role, which they learned through repeat and intensive fieldwork and interactive sessions.
United States
In the United States, 93% of Generation graduates have passed the certification exam for the certified nursing assistant role, far surpassing the 50% national average pass rate—and approximately 85% of graduates have been placed into quality healthcare jobs within one month of passing their exam. And employers have commented on the high quality of our graduates. One, for example, was surprised that 100 percent of Generation graduates passed the organization's behavioral test. Three employers that were not part of the original partnership asked to join after hearing about the program because they wanted to access the talent pool of our graduates—an example of how Generation can continue to grow.
Spain
Ninety percent of our first Generation Spain classes have jobs and continue to be employed six months after graduation. They have been placed with over 50 businesses, most of which are small and medium-sized enterprises. And the second set of Generation Spain classes is on track for similar success—all this in a country where the youth unemployment rate is close to 50%.
Moving forward
Over time, we'll be looking at a much broader range of program and employment measures (productivity and quality outcomes, speed to promotion, persistence in the role) as well as graduate well-being along a number of dimensions (net income, home ownership, social indicators, physical health and emotional well-being).
Early work to measure return on investment
We are committed to measuring Generation's impact in terms of return on investment for both employers and young people participating in this kind of training. We will assess this over the short-, medium- and long-term. For example, we'll track students in a 15-year longitudinal study in order to understand the long-term impact on their well-being.
Working with Gallup, our research partner, we've spent the last few months finalizing our approach to address these research goals, developing survey tools and other collection instruments, and beginning to gather data in the countries where we have full program operations. For example, Gallup has interviewed over one third of all Generation USA graduates in Pittsburgh. In these open-ended, qualitative interviews, graduates discuss how their lives have changed as a result of participating in Generation, as well as their aspirations for the future.
Many graduates specify profound life changes since Generation including more confidence in the workplace, higher paid and more stable employment, and pride in providing high-quality and empathetic care to patients in their new roles as nursing assistants. For instance, one Generation graduate relayed that she was noticed and celebrated by the president of the University of Pittsburgh Medical Center for receiving so many recognition letters and cards from patients about her care and kind demeanor.
We're excited by the progress, and we expect to have initial results to share in early 2016.