Generation's Fifth Anniversary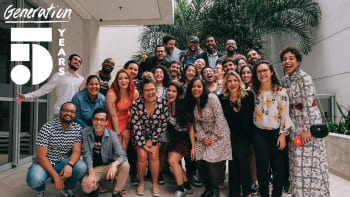 Five years ago, Generation launched with small pilot programs in Spain and the United States. Today, Generation has expanded operations to 13 countries: Australia, Brazil, France, Hong Kong, India, Italy, Kenya, Mexico, Pakistan, Singapore, Spain, UK, and USA. Nearly 33,000 people have graduated from Generation programs, been placed in employment, and increased their income by 2-6X, earning more than $135 million in cumulative salaries.
Today, we're celebrating our 5th birthday.
We want to take this moment to thank all of you, whether you're a graduate, employer, partner, supporter, or simply interested in our work, for shaping this journey with us.
5 years since launching in USA & Spain
Nearly 33,000 graduates with 81% placed in jobs within 3 months of program completion
Now present in 13 countries & counting
Offering 26 employment programs in tech, healthcare, skilled trades, and customer service
In collaboration with over 3,000 employer partners.
We're humbled by this milestone, and motivated to keep tackling unemployment for many years to come, with your support.
"Generation delivers a holistic employment solution to those who need to be rapidly trained and placed in a career right now," said Generation's founding CEO Dr. Mona Mourshed. "No one organization can do it alone, which is why collaboration with employers, governments, and education providers has been and will continue to be core to our mission. In five years, we've learned a lot, but we know it doesn't end there. We want to continue to learn as we serve the millions of diverse, talented people who have often been overlooked."
Visit our celebration page and sign up for our newsletter (bottom of the page) to follow our progress, with countless inspiring student stories along the way.