United States update – Feb 2016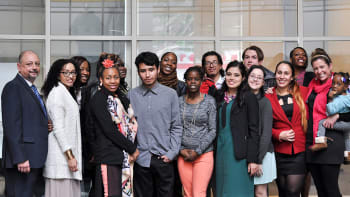 [slideshow_deploy id='2378′]
Generation USA, currently in five cities and expanding to two more in the first quarter of 2016, focuses on the following professions in each of our target sectors:
Healthcare: certified nursing assistants (CNAs)
Retail / Hospitality: customer service hourly supervisor or front desk roles; and, pharmacy technician
Technology: computer support and network support roles
In the United States, we have graduated 148 students, 75 students in our CNA program (Pittsburgh, Wilmington, San Jose) and 73 students in our Customer Service program across four cities (Pittsburgh, San Jose, San Francisco, Miami). We currently have 50 students enrolled in the Customer Service program and are selecting candidates for the launch of the tech programs in San Jose, Miami, and Jacksonville. Our results to date show great promise for our students and our program.
Certified Nursing Assistants
In the US pilot, we focused on certified nursing assistants in an eight-week program rolled out across three cities: Pittsburgh, Wilmington, and San Jose. Over 70 percent of our students are female, the majority of whom are single mothers. All of our students have only a high school degree or a GED. For our CNA graduates, 91 percent of our students have passed the state certification exam (compared to 50 percent national average) and ~80 percent of our graduates are employed within two weeks of obtaining their certification.
Our CNA graduates are performing above average compared to their peers in terms of professional skills (e.g., professionalism, empathy) and in line with their peers in terms of technical skills. We have continued to improve the way we recruit, support, and train our CNA students, resulting in retention jumping from 73 percent in our first cohort in Pittsburgh to 93 percent and 100 percent in our last two cohorts in San Jose and Wilmington. In each city we have secured multiple partnerships with hospitals, nursing and assisted living homes where our students are placed. We are also exploring ways to leverage our multiple curricula (CNA, Customer Service, and Technology) to create programming applicable to other fast-growing healthcare occupations such as medical assistants and healthcare technicians.
Customer Service
A grant from Walmart funds our Customer Service program. This is a five-week, part-time program that equips 18-29 year olds with the skills (technical, mindsets, and behaviors) and support (e.g., mentorship, career guidance) needed to excel and rapidly progress from entry-level positions to supervisor roles and beyond in retail, hospitality and call centers. We independently run the program in Pittsburgh, PA, and have partnered with Goodwill in San Francisco and San Jose, CA, and with community colleges in Wilmington, DE and Miami, FL to provide the training. In Miami, the program is offered as a for-credit course in the hospitality pathway.
We have an average 77 percent graduation rate and approximately 90 percent of our graduates were employed within 30 days of graduation. We have over 20 employer partnerships across our cities of operation, and the list of partners on both national and local levels is growing. The program is rapidly expanding with the next launch being Atlanta, GA in late February, 2016. Furthermore, we are expanding the curriculum to cover supervisor roles.
Technology
In February 2016, we will launch the first Generation information technology program in Jacksonville, FL; Miami, FL; and San Jose, CA. The program will be focused on training for computer support and network support roles and will allow graduates to obtain a CompTIA A+ and CompTIA Network+ certifications. These industry-recognized certifications provide students with the recognized skills to progress quickly through the IT pathway and enter the workforce with a middle wage job.