Abu | Junior Unity Developer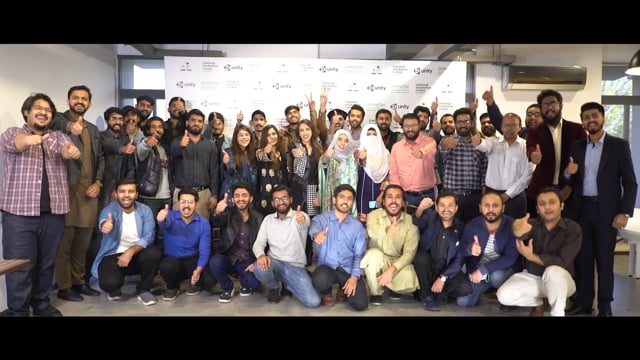 LIVES ON THE LINE
Abu comes from a low income family in a small town in Pakistan. His parents invested the last of their meager savings to put him through college at the local university, where he majored in computer science.
His family expected him to get a good-paying job right away, but as graduation day approached, Abu began to see how unrealistic that was. He already knew many classmates who had graduated in years prior who were still unemployed.
Once graduated, a very difficult period began for Abu. For years, the family had sacrificed, waiting for him to finish his studies and find work as a technology professional. Yet despite sending over a hundred CVs to various tech companies all over Pakistan, he received no word back from prospective employers.
If he failed to find a well-paying job, his parents would have nothing to invest in his younger brother's education and the reminders that he must find a job were constant. As the months wore on with no hope in sight, and economic pressures on the family continued to rise, he became extremely distressed.
But Abu isn't the kind who gives up easily. When he realized that the local university had left him ill-equipped for the modern world of tech, he began upskilling himself using free and low cost YouTube tutorials and online courses. After a 12-hour day in a low-paid teaching job, he spent nights researching web development, Android development, and ultimately gaming. It was gaming that caught his eye the most. And it was in the course of researching that industry that he came across Generation.
REBUILDING HIS IDEA OF SELF
By the time he began the program, Abu was not only unemployed, but psychologically depleted. He felt that his family was counting on him and that he had let them down. He didn't see his talent or his hard work, but only that he hadn't found a job yet, and that his family was waiting. While his passion for gaming was strong, his faith in himself had weakened.
Because Generation's mission is to train and place candidates into careers that would otherwise be inaccessible, a core dimension of our approach is to address the structural barriers to employment. Helping people who have faced unfair barriers to employment overcome undeserved feelings of guilt and shame is part of that work. Our behavioral and mindset curriculum helped Abu reframe his difficulty in finding work as an external barrier rather than a personal failing, and encouraged him instead to focus on his innate strengths and capacity for growth.
Improvements in his outlook, coupled with a rigorous technical curriculum (in Abu's case on the Unity gaming platform), ensured that someone with his aptitude and eagerness to learn and work would instantly thrive.
WINNING THE GAME OF LIFE
As graduation day from Generation approached, our Partnerships team connected Abu with various employers and he received a job offer before the program had officially ended.
A month after beginning his new job, with a salary that allows him to meet all his basic needs and send money home, a catastrophe happened. His father suffered a debilitating stroke. Because Abu was able to immediately send a large sum of money home, his father was able to receive treatment at a private hospital. His family now fully credits his father's ability to walk and speak to Abu and his hard work.
While Abu has many dreams for the future, and the world of gaming is replete with growth opportunities, for the moment, he is focused on the present. He loves his job, his colleagues and life as an independent young person in Lahore. And his paycheck is pretty good, too.
Abu says, "Generation changed my life. I can think of myself as upper class right now."